CORPORATE SPONSOR: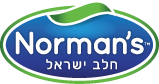 Norman's Dairy is a trusted brand that has been producing premium quality kosher dairy products for decades. Our commitment to excellence and has made us a household name in the kosher industry. From our creamy and delicious cream cheese to our delectable yogurts, every product we make is crafted with care and precision, using only the finest ingredients. Our products are certified kosher and meet the highest standards, ensuring our customers can enjoy our dairy products with confidence.
---
CONCEPT & DESIGN BY:

As an emerging division of noted Brooklyn-based marketing agency, Brand:Whatever, we serve as an AI-focused marketing firm that harnesses the power of AI technology to help companies and brands elevate their marketing efforts. Marketaing.ai has a team of branding experts that utilize cutting-edge technology to create innovative and effective marketing campaigns -- while tapping into the promising powers of AI technology to transform the marketing landscape and help businesses thrive. Join us on this exciting journey and discover what we can do for you.
---
IN COLLABORATION WITH:

Bomshteyn Consulting is a custom web development solutions agency. Our team of skilled professionals build quality web applications for businesses of all sizes. As a collaborative partner with Marketaing.ai, we combined AI technology with a user-friendly design to create a personalized experience. We believe in the power of creating customized technology to help businesses better serve their customers.